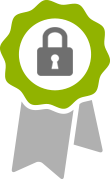 SSL Certificate



SSL - Secure Sockets Layer
- a protocol encryption on the Internet.
Providing reliable protection of the information transmitted on the Internet - it is confirmation of professionalism of the owner of Internet portal and quiet confidence in their clients' security from this resource.
Optimum protection of confidential information transmitted between a client and an online resource, such as a virtual shop or a private office and the user - the purchase and installation of SSL Certificate.
SSL certificate will provide the necessary credibility to your website, will eliminate the possibility of distortion, substitution or substitution of data interception.
Traditional HTTP protocol is very unreliable and practically does not provide any protection. When using SSL, the information is transmitted in encrypted form, and it can only decrypt with a special key. SSL is supported by all major browsers and operating systems. Connection over HTTPS ensures secure transmission of data to the client via the Internet.
There are several different options for SSL certificates:
Standard certificates checking domain (Domain Validation SSL);
Standard certificates checking domain and organization;
Advanced certificates and check domain organization (EV);
Certificates forced highest level of encryption (SGC);
Certificates c support subdomains (Wildcard);
Certificates supporting national domains;
SSL certificates with check domain (

Domain Validation SSL

) - the most affordable entry-level certificates that confirm the accuracy of the website address. Apply for startups or small online stores. Obtaining such a certificate is possible the individual and the organization and does not require the submission of documents.

SSL certificates with company check (

Organization Validation SSL

) contains information about the address of the site and the organization that owns the domain. This greatly increases the confidence of customers to the site. The certificate shall be issued only to a legal entity.

Extended Validation SSL certificates (

Extended Validation Certificates

) - it is more prestigious certificates of business-level verification and proof of address and domain organization. Visitors of this site in your browser will see lights in green, indicating a very high degree of confidence.

SSL certificates with the support of subdomains (

WildCard SSL Certificates

) - confirm the reliability of the primary domain and all its subdomains (eg, test.com, my.test.com etc.).

SSL certificates with SGC security (

SGC SSL Certificates

) provide the highest possible level of data protection through the use of 128-bit encryption.

When you select a certificate, you must take into account how it is issued by a certification authority. The more well-known company (GeoTrust, Comodo, Verisign, Symantec and others.), The more programs will work correctly with the certificate.

SSL certificates from Aviti - it is always attractive prices, authoritative certification authorities, detailed advice on the selection and use of the certificate.